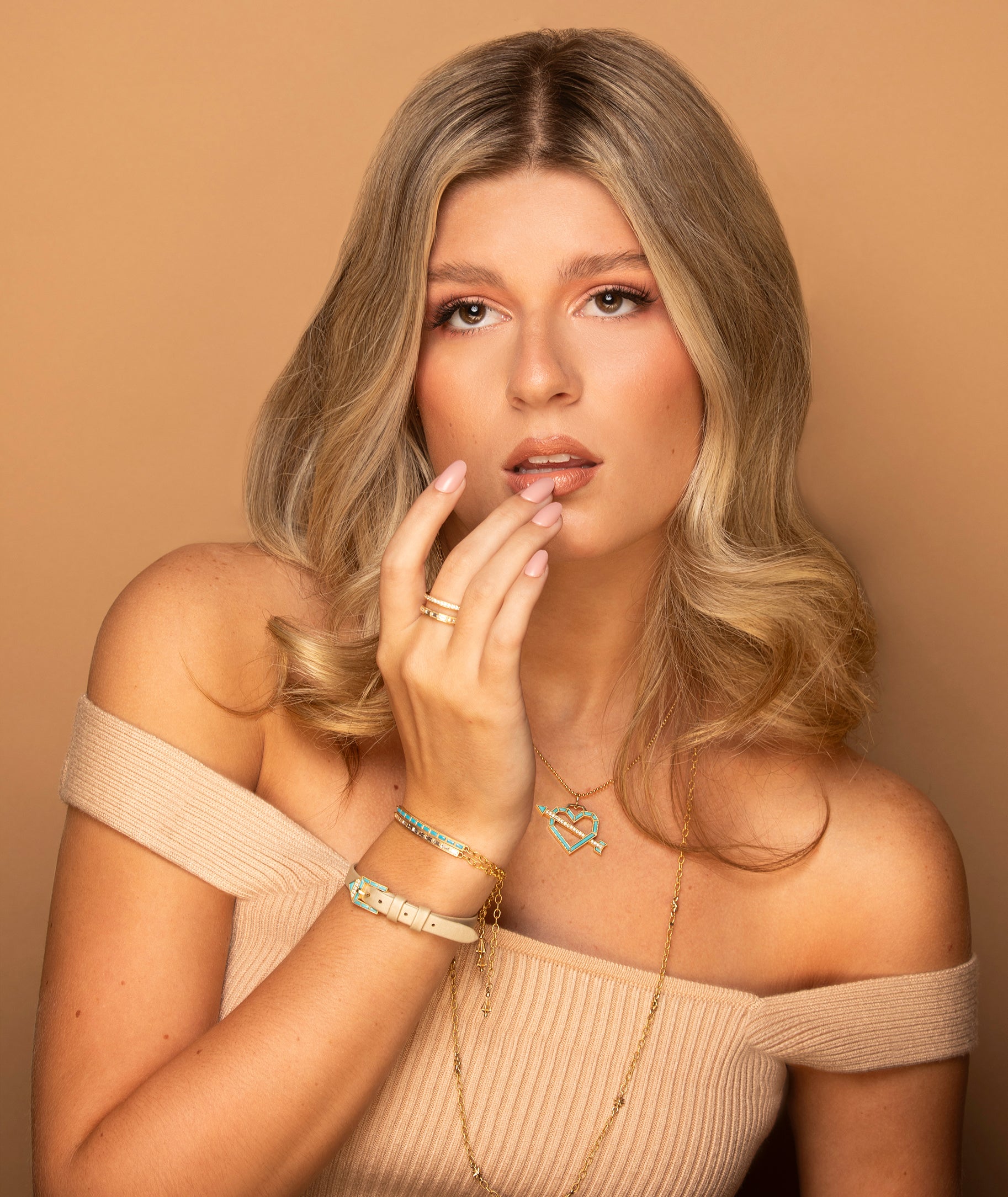 About Katherine & Josephine
After many years and different positions within the jewelry industry, the next step for Julie became clear and Katherine & Josephine was founded. The company was named after her grandmothers, two women that equally inspired and motivated her to pursue this passion.

Heavily inspired by Art Deco & Victorian jewelry, coupled with extensive sketching, planning and research, the collection came to life. With a strong focus on bracelets, Katerine & Josephine's marriage of satin straps and metal adornment is the perfect way for a wearer to create a look as unique as they are.

The collection features 14K gold, sterling silver, precious and semi-precious stones. Katherine & Josephine welcomes all custom projects.
As a child there weren't many times that you would find Julie not wearing a watch. She recognizes that this fondness for watches helped lead her into a career in the jewelry industry. Quickly it became clear for Julie that her love for watches also extended to bracelets. During her time working in sales & buying Julie desired to create a bracelet concept that was equally unique & versatile. Driving home from work one night she came up with the idea of marrying the beauty of satin with precious metals, diamonds & gemstones. Shortly thereafter Katherine & Josephine was born.

Wearers can choose a strap, slide(s) & buckle to create their perfect combination. Slides can be changed out at home allowing you to switch strap colors at your leisure. Katherine & Josephine offers two lengths of straps, single & double wrap. The double wrap can be worn as a choker as well as a bracelet.
Visit our Showroom
in Carmel, Indiana
Join us for a private shopping experience at our showroom. Book your appointment below, we look forward to seeing you!
Schedule your appointment
Interested in making something custom? We have you covered!
Whether you want to make something with your own stones or have us supply, we are happy to help.
Contact us at info@katherineandjosephine.com to start discussing!
From the first moment Julie laid eyes on a piece of jewelry that featured French cut diamonds she was in love. The French cut dates as far back as the 14th Century and some believe it earned it's name by being the most popular among the French.

You can often find French cuts in Art Deco jewelry, with the faceting style also used on sapphires, rubies, emeralds, black onyx and turquoise. The shape of the stone can be either square, rectangular or trapezoidal. The cut is achieved by faceting the top of the gemstone to make a square table that is rotated 90 degrees.

Throughout this collection you will see the use of French cuts, like the Spinner necklace to the left. The square diamond surrounded by round brilliant cut diamonds is a French cut.
Shop French Cut Diamonds